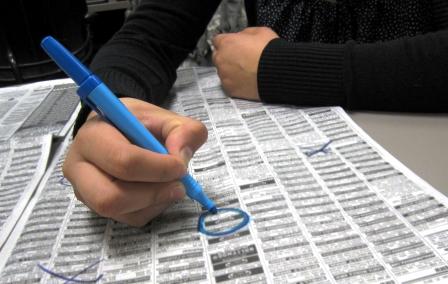 Finding a job is rough, even when you have a PhD. It took me 3 years after I graduated to even find a job as an assistant professor. Below is some advice for those still on the hunt for that higher ed position.
Location, location, location
What goes for real estate and for business, also goes for finding a job in academia. The hard truth is that some locations have more jobs available in your field than others. For example, when you want to become an actress, you go to Hollywood or New York. When you want to work in the tech industry, you apply for jobs in Seattle, Silicon Valley, or Austin. Want to be a professor? Well, those jobs are in every state. Yet, believe it or not, some states contain universities or colleges that favor certain programs over others.
For instance, the University of Hawaii has a lot of programs involving Asian-American and Pacific Islander culture. If you specialize in a field that involves Asian-American languages, literature, history, etc... the University of Hawaii or other colleges around Hawaii might be the right place for you. Do a Google search and you'll find that other colleges and universities across the United States, outside of Hawaii, are less likely to have programs that focus on Asian-American and Pacific Islander culture (although I'm not saying those colleges don't have any at all, just less likely).
However, let's say you are an Instructional Designer, like I am. You can find tons of jobs as an instructional designer in Seattle and the surrounding area, yet the majority of colleges around the area have no Instructional Design programs whatsoever (interestingly, the majority of instructional designers around Washington that I have encountered are transplants from out-of-state or had to travel elsewhere to obtain a degree in Instructional Design). Therefore, you may not want to focus your job search in Washington if you want an Instructional Design teaching job.
My advice: Think about your specialization and then think about the location where these jobs are most likely to occur.
Vary your search
Interestingly, right before I found my current job, I wasn't actively looking for another job. I was simply browsing college sites here and there looking at their job listings, not really expecting to find an opening. But lo-and-behold, there happened to be an opening for an Assistant Professor in Education at the university I am working at now. I then asked the person who hired me what places online this position was listed in, and interestingly, it was only listed on their website and one other job board online. And the position didn't even show up on the traditional job aggregator sites for higher education jobs.
Only relying on one or two sites is not going to find you a job. You need to vary your search. Don't only look on job boards, but look at the colleges and universities themselves. And even though they don't list a job that matches you right away, take a break, and look again at a later time. Your job is out there for you! You might just be looking in the wrong places.
Be flexible and think beyond your job title
Although my degree is a PhD in Education with a specialization in Educational Technology, my current position is mainly an Assistant Professor in Education. I am teaching an Educational Technology course, but I am also teaching a Multicultural Education class since I have experience working with students from diverse backgrounds. Be flexible when offered certain classes to teach.
What it comes down to is being flexible. Sure, my job title isn't exactly Assistant Professor in Educational Technology, but I am okay with that. A lot of what I learned as an instructional designer and teacher also applies to other areas of Education.

Be Patient and Get Some Experience (or more experience!)
If you can't find a job right away, don't be afraid to work in other non higher education industries. After I moved to Washington State while completing my research online, I worked as an admin assistant (temporarily) at Nintendo and as an Instructional Designer for two other organizations. Those years were very valuable to me in regards to the experience I received working in these industries. Working outside of higher education helped me with my management and Instructional Design skills, much of which I apply to my current job. I feel that I am now a better instructor and coordinator because of these experiences and I wouldn't trade them for the world.
Therefore, remember to keep your location in mind, vary your search, be flexible and be patient. You never know what job will come your way or which job you may find. Feel free to contact me for more advice.